Laguna Beach's Coolest Oceanfront Hotel:
Laguna's Sand Castle Legacy
Experience the very best of Laguna Beach's world class coastline when you stay at the boutique La Casa del Camino hotel. Located in the heart of Laguna Beach, our vintage, oceanfront hotel offers phenomenal access to all 7.8 miles of the city's breathtaking beaches, coves, and bluffs. Just steps from the secluded Cress Street Beach, a short walk from Oak Street Beach, and a quick ride from the bustling Main Beach, our beachfront hotel's boutique 
Surf Project Rooms
, classic SoCal atmosphere, and our epic Rooftop Lounge guarantee the quintessential Laguna Beach vacation. Book your room today and start planning your Orange County getaway.
Our Guide to Laguna's Best Beaches
Home to some of the world's most beautiful and iconic beaches, Laguna Beach offers a variety of different experience for all types of beachgoers. Whether you're looking to relax near a secluded cove, find a pickup game of volleyball, ride some serious waves, or do some good people watching, Laguna's 30 unique beaches offer the ideal experience for everyone. During your stay, explore Orange County's best beaches and see why La Casa del Camino is a world-class oceanfront destination.
Review our top 6 Laguna Beach beaches below.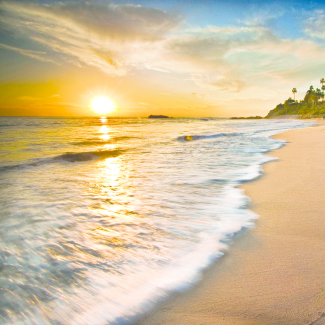 With over three miles of undeveloped coastline, hiking trails, diving coves, and world class surfing, Crystal Cove State Park's serene shoreline offers a secluded retreat from the energy of Downtown Laguna Beach.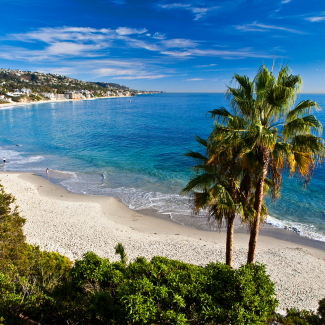 Nestled at the end of Victoria Drive, 
Victoria Beach
 is a favorite among Laguna Beach locals. Arrive early, stake a secluded spot along the pristine white shoreline, and take in spectacular views of the vast Pacific Ocean.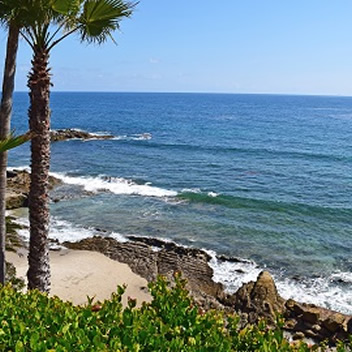 Steps from La Casa del Camino, Cress Street Beach features scenic bluffs, rock formations, and a quiet place to surf. After a day on the beach, head back to the hotel for ocean views and happy hour at the Rooftop Lounge.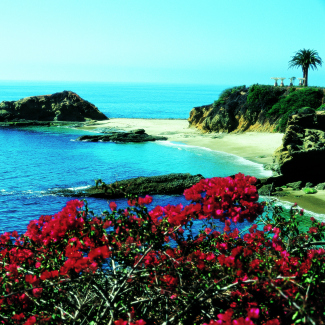 Don't miss out on Table Rock Beach's picture-perfect bluffs, rock arches, and unbeatable diving coves during your upcoming visit to Laguna Beach. Located at the southern end of Laguna Beach, this spot boasts some of the most breathtaking sunsets in Orange County!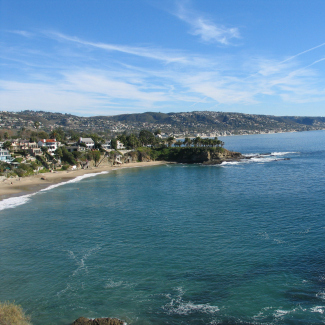 Head to Crescent Bay Beach for a relaxing afternoon of whale watching among the cove's gorgeous rock formations. With an offshore sea lion and seal refuge, 
Crescent Bay Beach
 offers a great place to experience Laguna Beach's vibrant Pacific Wildlife.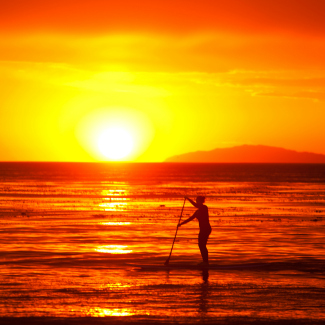 Treasure Island Laguna Beach
Enjoy the picture-perfect Laguna Beach day at the always-popular 
Treasure Island Beach
. Just north of Aliso Beach Park, Treasure Island boasts crystal clear waters, safe swimming conditions, a long sandy shoreline, and some of Orange County's very best people watching!
Our Boutique Oceanfront Hotel
Book your stay
 at La Casa del Camino to experience the quintessential Laguna Beach vacation. With vintage, 
Spanish-style guest rooms
, boutique surf suites, and a 
private beach cottage
, our relaxed oceanfront hotel offers the most unique accommodations in Laguna Beach. Catch some sun, ride some waves, and head up to our award-winning Rooftop Lounge to take in the sights and sounds of Laguna Beach.
Oceanfront Hotel Amenities
Boutique Laguna Beach Accommodations
Panoramic Views from the Rooftop Lounge
Steps from Cress Street Beach
Ocean View Rooms Available
WiFi, Parking, Breakfast, and Fitness Center Access Included
Whether you're in the mood to surf, sleep, or explore, Laguna Beach's wide variety of world-class beaches allow you to find the perfect spot to suit your mood. With over two dozen beaches down the shore from our oceanfront Laguna Beach hotel, La Casa del Camino puts you front and center for a chill, beach vacation. Take a look at our local beaches map and let your mood dictate where you spend your day.